Are you just getting started with Spekit? Use this step-by-step guide below to be up and running in less than 5 minutes. 
Click on the
Spekit Chrome Extension
in the toolbar. Make sure you have the Chrome Extension downloaded and you are logged into Spekit. If you don't yet, download it here.
In the Search bar, type in the term or process you are looking for
.
For example, search  How to create a report. This is one of the free Speks that comes with Spekit.
Click on the Spek to see details. 
To search a keyword in Spekit from any window, simply highlight the keywords and type the letter "s" on your keyboard or right click.
In your email, for example, you can highlight the keyword and
right-click
or
type Shift+S
to quickly search Spekit and look for a Spek. See below:
If the keyword has not yet been documented, Spekit will show you similar results to it.
There are several actions available to you in the Chrome extension which include:
Star Items:

Click on the Star to save the card and make it available every time you open the extension.

Copy Content:

Copy all the content of the spek including images and videos.

Copy link: Share the direct link to the spek

Details tab:

Click on the Details tab to view the card in Spekit.

Edit:

Click on the edit icon to edit the card directly in the extension (if you're a Data Expert)
Click on the edit icon, to edit the Spek right from the chrome extension.
Click on
+
to add a new Spek.
You can click on any image to zoom in or expand any videos to full screen.
7

. ONE-CLICK COPY SPEK CONTENT TO EMAIL OR DOCUMENT
Copy all the content of the spek including images and videos to save time rewriting the same details.
Starring a Spek saves the spek to the starred items, making them available whenever you open the chrome extension.
10

. ENABLE HELP ICON ON ANY APPLICATION
1.
Open
up the Spekit Chrome sidebar and click the
Settings gear
icon.
2.
Enable
help text icon →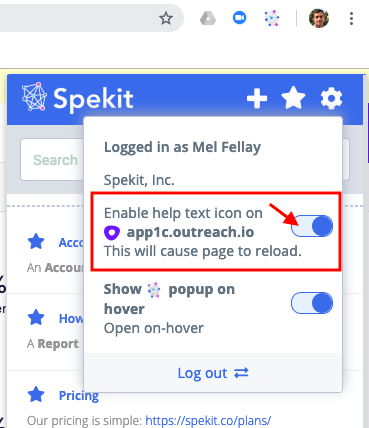 3.
Refresh
the page.
Any keywords
that match a Spek you've created will have the Spekit icon next to them.
For example, if you have documented a the Opportunity "Stage" field in Spekit, the Spekit icon will show next to it in Salesforce. Clicking on the Spekit icon will show you all the details such as the definition.
Access knowledge from any google chrome window
Anyone in your company can benefit from this knowledge, in any Google Chrome window. Simply right-click to access Spekit knowledge anywhere.
11

. VIEW SPEK DETAILS (EXPAND IN WIKI)
Clicking on the the Details tab will Open the expanded view of the card directly in Spekit.
Get Your FREE Salesforce Training Manual!
Migrating to Lightning? Download our free, editable Salesforce 101 end-user training manual to get you started on your documentation journey.
Download